Elegant Roman Blinds
Roman blinds bring an air of sophistication to dress a window. With many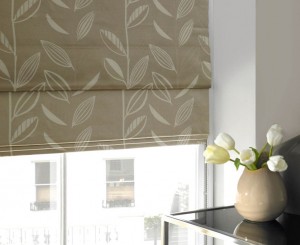 beautiful fabrics available today, a roman blind can bring a softer style to your window and create an elegant feature in your room.  The blinds are pulled up with cords running through the back of the blind, enabling the blind to be partly or completely pulled up, to allow shading when required.
Roman Blind Operation Styles
Roman blinds can be made with various styles of operation:
Chain operation (metal or plastic) – to be fitted with child safety device;
Motorised Headrail (various options available).